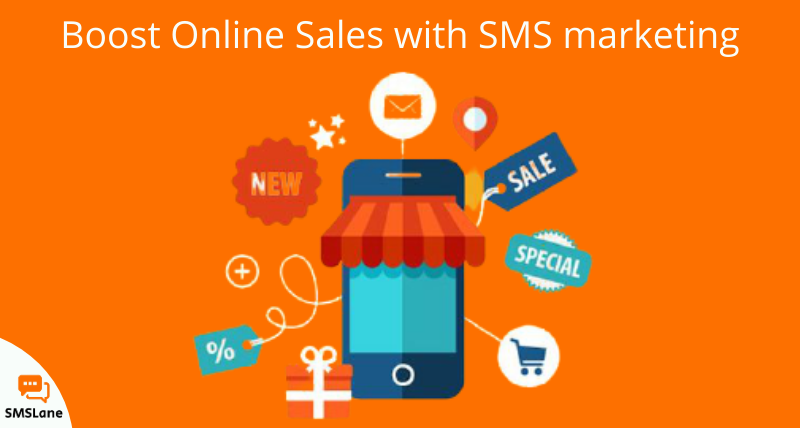 Mobile marketing is evolving with the time. The smartphone market is booming, As per survey in end of 2019 mobile phone market will cross 810 million users.
According to the survey, an average person opens his phone more than 150 times a day.
This is the best time to enter into mobile marketing market.
SMS is all time favorite medium for a top-level marketer. They know the value of SMS and its ROI.
SMS is the only marketing medium that gives you highest CTR as compared to any other marketing medium.
Let's see how E-commerce Sites can use SMS to increase sales revenue.
SMS marketing plus point is it can deliver more in few words. With just 160 characters you can deliver more and receive more.
Below I am sharing some key points, how one can use SMS marketing for an E-commerce site.
Send Reminders:  Reminder is the best way to engage with the customers it helps to get customer attention. You can send payment reminders,
Send New Offers: With 95% + open rates, SMS is an ideal way to promote your business. You can send your offers, new deals and coupons directly to the customer pocket.
Inform Customer: Many times customer want to buy something but at that time the item may be not available in stocks. You can inform those customers when the item back in stocks by sending simple follow up SMS.
Follow-up:   a survey held by Shopify revealed that 60%+ customer leave sites after adding items int the cart. To convert those people into sales you can send they follow up SMS to remind them to complete the buying process.
Also Read: Top 5 tips for better SMS Marketing
How SMS marketing help E-commerce business (benefits)
Customer base builder: By using simple opt-in SMS campaign you can generate more new leads and customer.
Better Analytics: technology is evolving very rapidly. At SMSLane we also upgrade our service and come up with many new features like Smart SMS that help to capture and analyze customer behavior, which can help you to run a more effective campaign.
Increase online sales: This whole process of sending an informational SMS to sending an offer, the final goal of this is to achieve more sales revenue. If you are doing everything perfectly then soon your sales graph will go upwards.
Feedback: Feedbacks are very important if you want to run a successful business. Your most unhappy customer is your best source of learning. And SMS can help you to get those learning by simply asking your customer.
Brand Building: Once you start SMS campaign your customer start recognizing you and next when your customer sees something about your product they will never ignore at first sight because now you are not unknown to them. With simple SMS you can build and grow your brand.
SMS templates for E-commerce
Order Confirmation: "Dear *customer name*, your item blue demine order is confirmed will be delivered by Thursday 7th 2018. – *ABC PVT LTD *"
Account Activation: Hello *customer name* Thank you for choosing us. We are happy to serve you. Please click this link to activate your account and get 30% off on your first order.
Account Recovery: "21321" is your account recovery OTP. Add this to account recovery page and recover your account.
Payment Confirmation: Dear *customer name* you order with ID 12313 has been successfully placed and payment is accepted. Your order will deliver to you by 3rd September 2018.
Seasonal offers: Diwali offer: – Buy 2 Kutras and get 1 absolutely free. HURRY UP OFFER END SOON. USE THIS COUPAON at check out: "DIWALI2018"