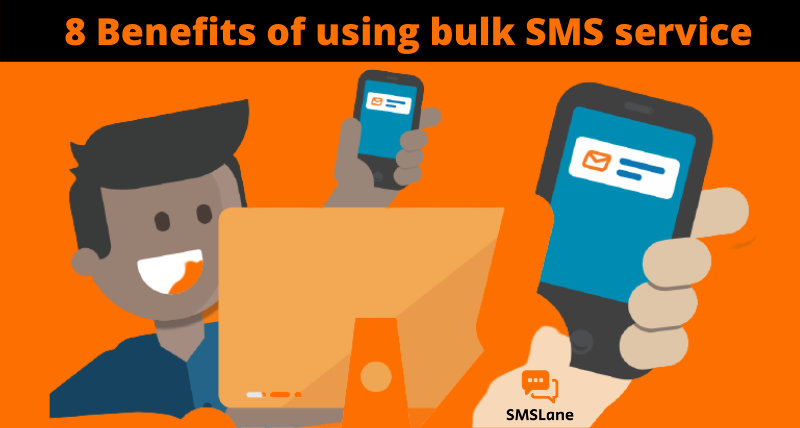 Bulk SMS is the best option available for small or big business to market their business with low cost. If you rae new to SMS marketing then this post will help you to encase your SMS marking knowledge and you also know about some of best bulk SMS benefits.
Below are the Top 8 Bulk SMS Benefits:
High Open Rate:
With compare to other Marketing tools Bulk SMS Marketing has a very high open rate.
Almost every SMS sent is open within 10 minutes. Whereas the only fraction of Email sent is open by Email and most of them deliver into the spam box.
High Conversion Rate:
With SMS you get a high amount of conversion rate compare to Any other marketing.
In this ERA, Where there are many messaging apps available in the market Still people prefer SMS to communication. And Especially B2C receives high conversion rate compared to other platforms.
Inexpensive:
Bulk SMS Service is very budget friendly and economic compare to billboard, television or magazine advertising.
Effortless:
Sending an SMS is not a rocket science and not requires any Ph.D. degree. Any person who has a mobile knows how to send SMS.
But, if you are looking for Sending bulk SMS to your customer then mobile is not a good choice.
You need something more reliable and more effective.
With SMSLane you can do it with ease and start your Bulk SMS Campaign.
Easy reach:
Now a day's even a simplest mobile phone has an SMS features.
People do not need any internet connection to access the SMS features( that is the best bulk SMS benefits it has very few dependency). That means you can reach more user with SMS than any other platform.
Wide appeal:
More than 4.77 billion mobile users out there (this is a HUGE amount, isn't it?)
People are very used to do with SMS than any other Things that is why they always prefer SMS communication.
Speed:
In Email Marketing User have to Log in and need an internet connection to operate an Email and other advertising media demand HUGE money but in Bulk SMS service you do not only save money but you save time also.
Fact shows that more than 98% SMS sent are read within 10 minutes.
Personalization:
SMS can be Personalization too.
If you want to send specific SMS based on Buyer's last buying behavior or location-based or individually sculpted base.
With BULK SMS SERVICE you can achieve this level of rationalization other services might provide this feature but they Demand Huge money.
SMART MARKETER ALWAYS PRIORITIZES BULK SMS SERVICE.
Want More Information: Contact us on- +91-9979524323 
And, Feel Free to Share your view in the comment box below.
Thank You.